The Postgraduate Doctor of Acupuncture and Oriental Medicine (Postgraduate DAOM) program is designed for licensed acupuncturists interested in developing advanced TCM knowledge and skills, achieving a medical specialization, and gaining valuable experience in research and teaching.
As a Postgraduate DAOM student you will:
• Expand and refine your knowledge and expertise in TCM patient care
• Gain the clinical treatment skills needed to work in an integrative medical setting
• Build professional relationships with TCM clinicians and other healthcare providers
• Develop yourself as a leader in the field of TCM as a practitioner, teacher or researcher
The Postgraduate DAOM program is offered at the San Jose campus in both English and Chinese. The 62unit / 1280 hour program comprises 39 units / 582 hours didactic and 23 units / 698 hours clinical training. Postgraduate DAOM courses are offered once per month during three to four-day weekend intensives with a flexible clinical training schedule, allowing you to earn a doctorate degree in as little as 24 months while maintaining your private practice. The program features:
A Modern Integrative Medical Curriculum
Our modern integrative medical curriculum bridges the gap between TCM and biomedicine approaches, promoting cross-referrals and inter-disciplinary medicine. The program covers both the TCM and Western medicine perspective of a core TCM practice and each medical subspecialty of family medicine.
Clinical Training with TCM and Western Medicine Experts
Receive extensive clinical training from renowned senior TCM practitioners and biomedicine experts from China, the U.S., and Europe in the following clinic environments: the Five Branches health centers, local community clinics and hospitals, and major hospitals affiliated with our sister colleges in China.
Medical Specialization
The Postgraduate DAOM curriculum emphasizes advanced clinical TCM with broad exposure to family medicine (the core of a LAc.'s practice) and the option to specialize in:
• Women's Health and Endocrinology
• Neuromuscular Medicine and Pain Management
• Auricular Medicine (optional)
• Cerebro-Cardiovascular Diseases (optional)
Earn a Ph.D. in China
Upon completion of the program, you will be awarded a Postgraduate Doctor of Acupuncture and Oriental Medicine degree by Five Branches University. With an additional year of study, partially in China, you may earn a Ph.D. degree awarded by one of our sister colleges: Zhejiang Chinese Medical University, Tianjin University of Traditional Chinese Medicine, Liaoning University of Traditional Chinese Medicine, and Fujian University of Traditional Chinese Medicine. The Ph.D. degree is acknowledged by foreign credentials review agencies as equivalent to a Ph.D. in the U.S.
Research and Capstone Project
Learn how to assess evidence-based medicine, review new trends in TCM research and enhance your TCM scientific thinking skills. The capstone, an extensive research project in the final phase of the program, will allow you to demonstrate mastery in formal presentation, clinical evaluation and practice, and research capability. The capstone project, focused on your chosen field of specialization, will require quantitative and qualitative analyses as well as inductive and deductive research methods.
Meets California and National CEU Requirements
Almost all Postgraduate DAOM courses offered throughout the program fulfill both California and national CEU requirements.
Federal Financial Aid Available
Five Branches University is an accredited institution of higher education approved to participate in federal financial aid programs. Our financial aid programs can assist you with the financial costs of a Postgraduate DAOM education, including tuition, fees, books, supplies, and the cost to attend the program 3-4 days each month. Students who are enrolled in the Postgraduate DAOM program for a minimum of three units each trimester are eligible for in-school deferment for their Federal Stafford Loans or Consolidated Federal Loans.
Mission and Purpose
The Postgraduate Doctor of Acupuncture and Oriental Medicine (Postgraduate DAOM) program aims to develop highly-skilled TCM clinical practitioners, educators and researchers, to advance the practice of TCM as an independent and self-sufficient medical modality, and to promote integrated or collaborative clinical practice, education and research.
Educational Objectives
The educational objectives of the Postgraduate DAOM program provide guidelines for the development of the curriculum, assessment of the program's quality and success, and the measurement of the achievements of our graduates. Upon completion of the program Postgraduate DAOM graduates will be trained to:
• Apply advanced TCM knowledge to prevent, diagnose and treat disease
• Apply an understanding of the philosophy and theory of classical Chinese medical texts to support the well-being of patients and contribute to the maturation of theories into modern form through original thought
• Apply specialization training to raise the level of patient care, teaching, and research
• Apply scientific research methods and scholarly thinking to advance development in the field of TCM
• Apply biomedical scholarship relevant to TCM practice to integrate and collaborate with TCM practitioners, other health-care practitioners, and patients.
Postgraduate DAOM Curriculum
If you earned a Masters' degree or Master's level equivalent with less biomedicine content than required by the California Board of Acupuncture, you will be required to take the 48-hour Introductory Western Medicine Module to fulfill program prerequisites. This module must be completed within the first three months of the program.
The Postgraduate DAOM program includes 24 modules -22 modules in Foundation, Clinical Medicine, and Specializations, and two modules in Research Methodology.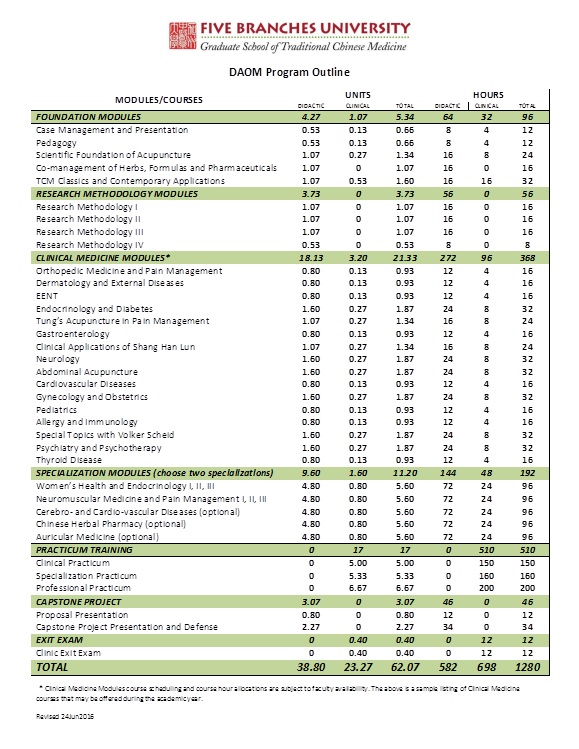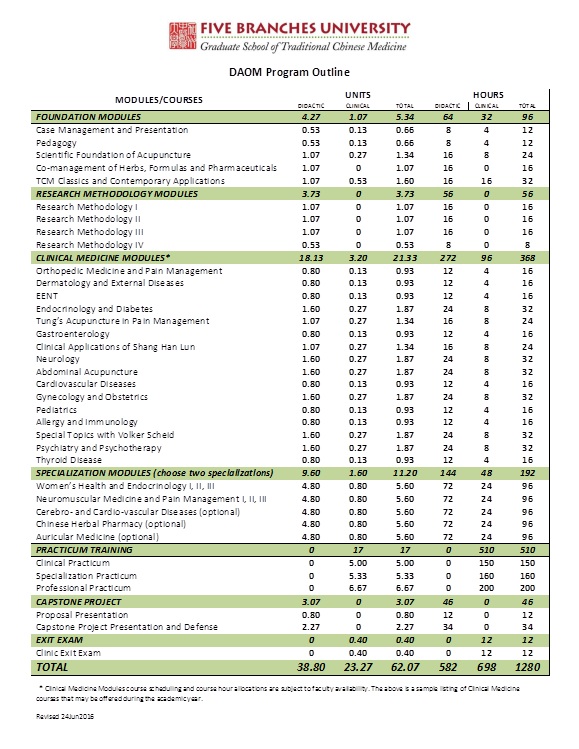 *Scheduling for Clinical Medicine Modules is subject to faculty availability. The above is a sample listing of Clinical Medicine courses that may be offered during the academic year.
Foundation Modules
Enhance your clinical reasoning skills and gain a deeper understanding of the classics, the theories and techniques of case management, and modern acupuncture and TCM research. The Foundation modules include non-clinical advanced skill courses appropriate for the Postgraduate DAOM program.
Research Methodology
Learn how to assess evidence-based and evidence-informed medicine, review new trends in TCM research and enhance your TCM scientific thinking skills. Research Methodology courses provide you with the knowledge and skills to complete the research pre-proposal, proposal, and capstone project to fulfill graduation requirements and perform research of publishing quality.
Clinical Medicine
Clinical Medicine Modules cover the most relevant health conditions seen in a modern day clinic. Classroom lectures are designed to be clinic-oriented, with close relation to actual cases. Clinical Medicine modules present an in-depth discussion of clinical medical fields to deepen the student's theoretical understanding and therapeutic skills in TCM Clinical Medicine. The clinical application of Classical TCM texts, modern Integrative Medicine approaches, and current research in both Chinese and Western clinical medicine is critically reviewed.
Specializations
Specialization modules provide you with the opportunity for advanced academic and clinical training in a chosen field of expertise. You will choose two specializations in which to perform in-depth study through advanced lectures in TCM and Western medicine. You will observe leading practitioners with decades of experience treating patients in a clinical setting and consult with expert faculty when dealing with complicated cases. This extensive training provides an Eastern/Western integrative approach to improve your ability to practice TCM as an independent and self-sufficient medical modality.
* Auricular Medicine and Cerebro- and Cardiovascular Diseases modules are offered based on faculty availability.
Practicum Training
Practicum Training is an opportunity for you to practice what has been learned in the Postgraduate DAOM Program. Practicum training includes Clinical Practicum, Specialization Practicum, and Professional Practicum. Clinical Practicum and Specialization Practicum are clinical in nature; Professional Practicum provides training in other valuable skills cultivated by the Postgraduate DAOM Program that are not clinical in nature.
Capstone Project
In the final phase of the program, you will complete an extensive research project to demonstrate mastery and synthesis of the knowledge and skills acquired in presentation, clinical evaluation and practice as well as research capability. The Capstone Research Project will be carried out by using quantitative and/or qualitative analyses as well as inductive and/or deductive research methods.
Read in: Chinese