For our COVID Safety & Precaution Protocol, click here
Welcome to the Five Branches University San Jose Clinic. We have provided Traditional Chinese Medicine (TCM) and integrative healthcare to the Bay Area community since 2005. Our mission is to work closely with patients to promote health and prevent disease.
Here are the reasons you may choose the San Jose Clinic as your primary healthcare provider:
Natural Healthcare
Our TCM practitioners work with you to prevent illness, preserve health, and effectively treat the majority of your healthcare needs. We offer the following TCM services:
Acupuncture
Herbal Prescriptions
Therapeutic Massage
Medical Qigong
Dietary Consultation
Excellent Patient Care
Our practitioners take the time to listen and thoroughly understand your health issues and concerns.
Quality Health Services
Our clinic provides the highest quality Traditional Chinese Medicine and integrative healthcare to patients of all ages, from infants to elders.
Integrative Medicine
Our TCM practitioners work with M.D.'s and other medical professionals to help you achieve the best results.
Affordable Healthcare
Our clinic is a teaching facility for the University as well as a provider of quality healthcare for the San Jose community. Patients can make private appointments with a practitioner or can receive patient care in our teaching clinic at a reduced rate. Please refer to the following links for more information.
Click on the tab title to see the detail in each section:
Book An Appointment
We open 6 days a week!
Accepted Health Plans and Insurance
We accept
* Private Insurance (PPO plans):
Anthem Blue Cross
UnitedHealthCare
Aetna
Cigna
Blue Shield (deposit required)
Flexible spending account (FSA)
Health savings account (HSA)
Medi-Cal for eligibile Patients*
* Worker's Compensation
* Personal Injury Insurance
Insurance rates include a $10 insurance processing fee for each individual visit billed.
* Download Your Insurance Verification Form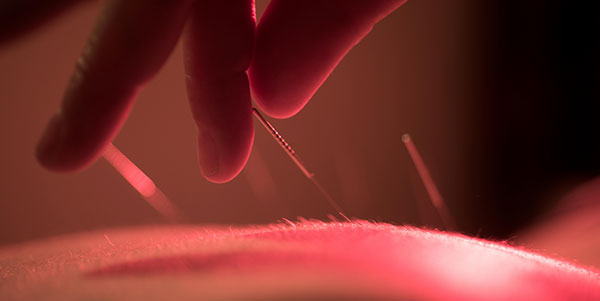 Complimentary Treatments for New Patients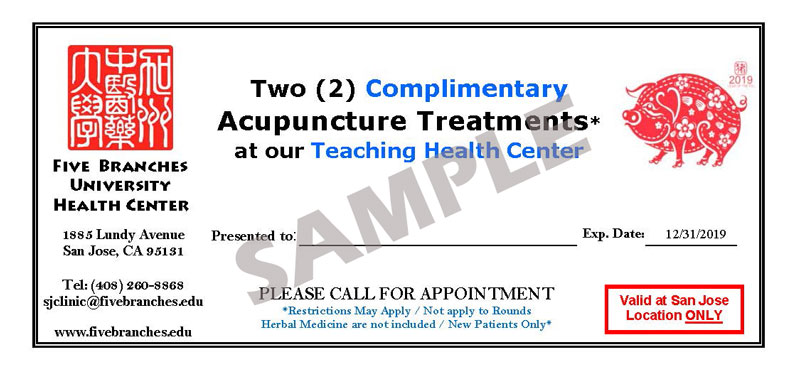 ---
Contact Us
Five Branches University Clinic- San Jose
1885 Lundy Ave, Suite 108
San Jose, CA 95131
Questions- Feel free to call or email us:
Phone: (408) 260-8868
Fax: (408) 260-8889
Email: sjclinic@fivebranches.edu
We are open Monday through Saturday:
9:00 AM – 5:00 PM
[om_gmap zoom="9″ lat="37.393086″ lng="-121.8915885″ infowindow="San Jose Five Branches University" ]
Read in: Chinese